Banquet Hall in Spring, TX
Looking for the perfect venue to celebrate your event? Grand Oaks Venue & Events is dedicated to making your celebration even more special with our exceptional services. Create unforgettable moments by booking our Banquet Hall in Spring, TX, and having the time of your life with our quintessential packages. Get in touch with us now to get started!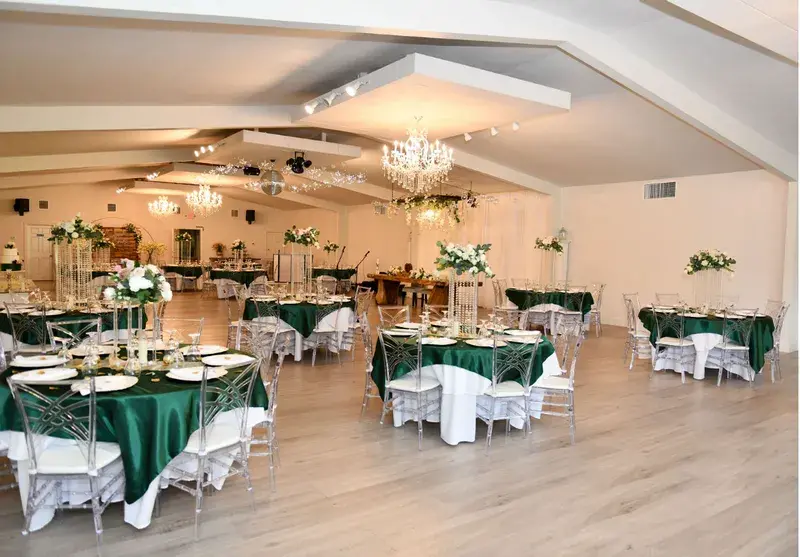 Features That Come With Banquet Hall Grand Oaks
We look forward to hosting your events and making them a success. Whether you have a birthday party or a wedding to plan, our Banquet Hall in Spring, TX, is the ideal location for the event. When you work with us, you can customize everything however you want; we are here to bring your dreams to life. Our team will prioritize your preferences every step of the way in order to make your big day exactly how you want it. There is a wide range of features and services we offer in our all-inclusive package, such as:
Professional Wait Staff: Our waiting staff is highly trained at handling and serving food, ensuring prompt service. We work with professional individuals who will maintain a seamless flow of foods and beverages while maintaining friendly behavior. You can rest easy knowing our adept staff has got it all covered!
Event Set Up & Tear Down: You do not have to fret about setting up the event; we will do it for you! Our services involve setting up the event so you can step into the venue to your dream decor and setting. And when the party is over, we will dissemble and teardown the event afterward. All you have to do is visit and create lasting memories with your loved ones.
Grand Exits: We have all heard the phrase 'make an entrance,' but what about exits? At Grand Oaks Venue & Events, our event coordinator can help you throw a grand entrance! Exit our Banquet Hall at Grand Oaks with style.
Security: Believe it or not, security is an essential part of your parties and events; our all-inclusive services include that, too. When you opt for our Banquet Hall, you can look forward to the extensive services and ideal venue in Spring, TX.
Essentials: Our venue has it all — from event coordinators to all the essential supplies you will need for the event. You can explore the tables, chairs, linens, and other items we have in the hall. Rest assured, you will not be disappointed!
Ideal Banquet Hall in Spring, TX
We know you have multiple options for a Banquet Hall in Spring, Texas, but our venue has it all. Once you tour the location, our venue becomes harder and harder to resist. From mouthwatering refreshments to high-quality accessories, everything comes together to make your event more magical than ever. You can have the best party in town with our wide range of services; call us today to book the day!
Let's Unroll the Festivities!
Whether you have a wedding coming up or a party, Grand Oaks Venue & Events is the top choice, without a doubt. You can arrange the event at our spacious venue and make precious memories while our staff works to make the day even more special! Talk to us and book our Banquet Hall in Spring, TX.