Reception Hall in Spring, TX
Many couples have said 'I do' in our reception hall in Spring, TX. Here at Grand Oaks Venue & Events, we aim to help you create memories that will last a lifetime. Our venue has timeless architecture and captivating charm that will set the perfect mood for your event. When you celebrate your event at our reception hall, it will be completely magical!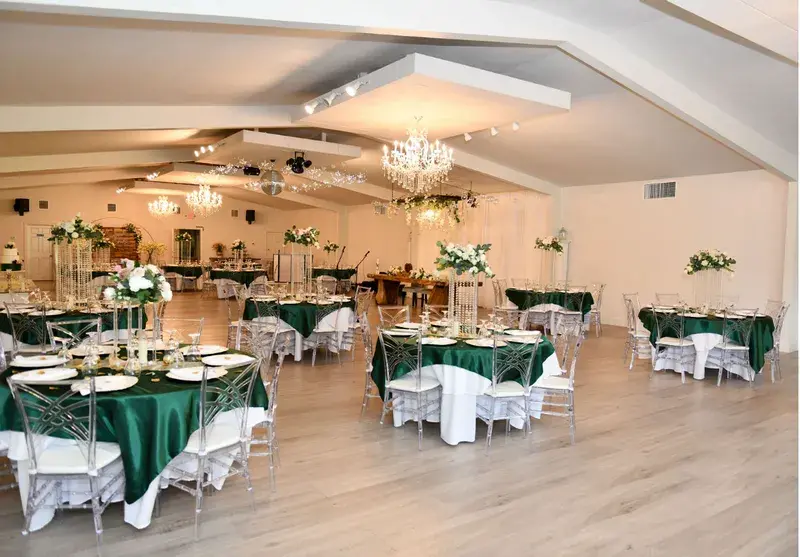 What Our Spring Reception Hall, TX, Offers
At Grand Oaks Venue & Events, your comfort, preference, and convenience are at the top of our list. We will work with you to turn your imagination into a reality. From the florals to the setup to the food, everything will be according to your choice. Book our reception hall in Spring, TX, and you can sit back to focus on other aspects of the event while we set up the venue. Below, we will list some features of our reception hall:
Fully Customizable: Yes — you read that right! We can fully customize our reception hall as you want. Choose the decorations, supplies, and other elements to match the theme of your gathering.
Up-lighting: Amp up the ambiance of your party with our up-lighting feature! By placing the lighting fixtures on the floor in a strategic manner, we aim to enhance the interior design features of the venue. Our defining features will definitely color your event in the right manner.
Speaker System: What's a get-together without some music? As they say: if music is the food of love, play on — which is especially true for a wedding. Whatever event you want to book our reception hall for, you can rest assured that our speaker system is of the highest quality. But music is not the only thing a sound system is good for; you can make speeches and announcements, have interactive sessions with the guests, and much more!
Restrooms: We facilitate all of your needs, leaving nothing behind. So when you book our reception hall in Spring, TX, you get the restroom too! Whether it is a last-minute hair disaster or you simply need to use the bathroom, we have included a comfortable restroom in the package.
Bars: Our Grand Oaks Venue & Events team has thought of your comfort, but that does not mean we do not care about the fun aspect of your event. Therefore, our reception hall comes with a bar with a certified bartender and basic mixers.
Outdoor Patio: If the inside is getting too overwhelming for you, you can always step outside for a relaxing break on our outdoor patio. Take a breather, let the guests move outside, have a photoshoot, and much more with our feasible options.
We Are Your Ideal Choice for a Venue
You can have a successful event when you opt for Grand Oaks Venue & Events. We have your best interests at heart, which is why we bring you promising venue packages with a wide range of features and services. You will not be disappointed with our top-quality supplies and elegant venue. So why the wait? Call us now to book the reception hall in Spring, TX!
Book a Reception Hall in Spring, TX, Today!
Our venues offer all that you need: sound systems, lighting, bars, and more. You can enjoy your big day or any other event at our dream-like reception hall in Spring, TX. Visit Grand Oaks Venue & Events today to discuss your goals, and we will make it all come true!