Fall-Themed Weddings in The Great Outdoors: Yay or Nay?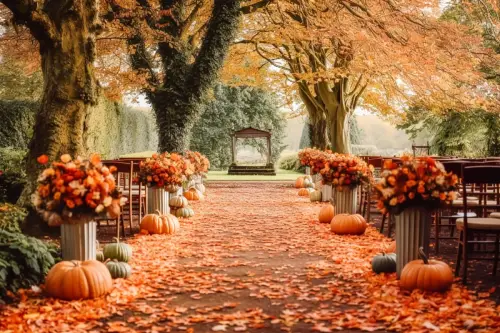 There is something truly magical about a fall-themed wedding. After all, it is the season of cozy sweaters, warm mugs of pumpkin spice lattes, and crunchy fallen leaves. But that's not all! Fall also provides the perfect backdrop for a wedding celebration.
Picture a warm and inviting wedding reception as a crackling bonfire blazes on in the background. The imagery is enough to melt away the chilly evenings, but the only thing it doesn't change is the pressure of preparing for such a Pinterest-worthy wedding.
So, if you're on the fence unsure of how to proceed with outdoor wedding planning duties, look no further! We are here to jumpstart your brain and lay down some of the most important tips when it comes to fall-themed weddings.
How to Plan an Ideal Outdoors Autumn Wedding
It can be nerve-wracking for couples to settle on a wedding theme. But if you and your partner have a special affinity for autumn, then a rustic fall wedding is exactly what you need. From the crisp, chilly air to the beautiful natural hue of fallen leaves, time always seems to stop during this season. There's truly no better way to tie the knot with your beau than under a wise old tree branch, curving in an arch to represent your new life together.
However, as aesthetic as the visuals are for a fall wedding, it can be tricky planning one since seasons keep on changing. But don't worry! We are here to break down some of the most important tips couples need to know before planning their ideal wedding ceremony.
Plan in Advance
The biggest mistake people make is procrastinating on wedding planning. Last-minute decisions are often rushed and haphazard. For fall-themed weddings, timing is key. Plan your big day in accordance with the season and weather.
Choose The Venue
This is by far one of the most crucial aspects of planning an outdoor wedding. To capture the true essence of fall, select a wedding venue that is littered with trees to get that natural rustic look. You can scope out various wedding venues in Spring, TX, to get a better idea of what to expect.
Filter Through Appropriate Colors and Decor
A fall wedding is entirely dependent on the color scheme you choose. Rather than opting for pastels or sparkles, go for a rich, neutral vibe. We're talking burnt orange, sage green, mahogany red, and autumn brown to make your ceremony pop. Even the decoration and setup you choose can greatly impact the end result.
Plan Out Fall-themed Activities
There's no doubt that weddings are mainly about the to-be-wed couple. However, when planning out the details, don't forget about your guests. If you're choosing an outdoor wedding, make a list of possible activities that can go along with it. This is so that your guests are entertained and engaged throughout the ceremony.
Be Prepared for Weather Changes
While fall is an ideal time to hold a romantic rustic wedding, it can be a little unpredictable in terms of the weather. Always make sure to check the weather forecast on the big day. Keep monitoring the weather weeks in advance, if possible, so you and your guests are well-prepared.
Questions About Fall-Themed Weddings in The Great Outdoors: Yay or Nay? ?
Grand Oaks is The Perfect Place to Say "I Do"!
True wedding planning starts with deciding on a venue. Grand Oaks Venue & Events has everything you're looking for and more. Our open space is perfect for couples looking to get away from their mundane routines and instead embrace a serene life together. So, what's the holdup? Call us at (281) 353-9500 to book your big day today!